Facebook to ban holocaust truth and direct users to "credible sources"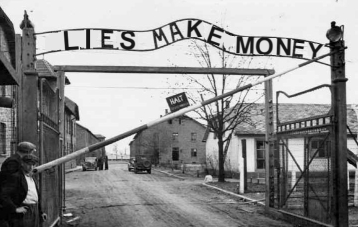 An example of so-called holocaust denial in the form of a manipulated photograph that expresses an alternative point of view. Facebook says it will not tolerate such "antisemitic" content any longer.
---
By Carolyn Yeager
ISRAEL'S YAD VASHEM CALLS ITSELF the World Holocaust Remembrance Center; it wants to dictate how the entire world views the 'Holocaust' and limit what individuals like you and I can know about it.
Yad Vashem believes it should be the judge of what content "denies or distorts the [Jewish] Holocaust." Yad Vashem is 100% Jewish and we know it is Jews who mainly benefit from preventing any questioning and/or the dispersal of scholarly investigation into unscientific and unhistorical Holocaust narratives.
A fundamental question is never asked: Is the "official" Holocaust story an actual assemblage of proven facts? Is there evidence for each part of the accepted narrative that would stand up in a legitimate court of law? Can Holocaust witnesses and so-called survivors withstand cross-examination by defense lawyers in courtrooms? The answer to all three questions is No. That's why that question is not asked. What we're being told—that the Holocaust is the most documented event in history—is a lie; a lie that is upheld by Jewish Power in the Western world. This Jewish Power is concentrated mainly in the media, in academia, and the entertainment industry, supported by Jewish financial muscle. Continue reading at Carolyn Yeager