The Chauvin trial will be a defining event in our nation's history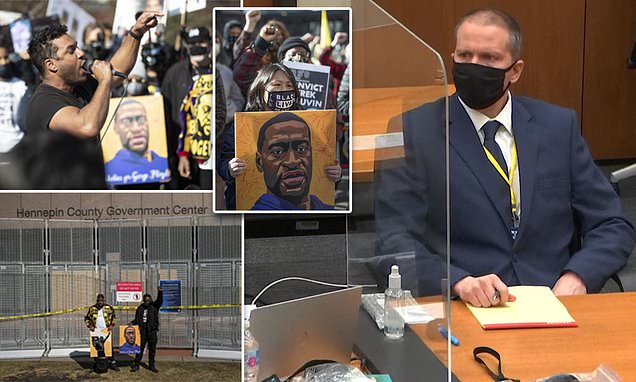 Composite image of George Floyd murder trial as jury selection is underway. Far right is former police officer Derek Chauvin in courtroom where he silently takes notes; lower left shows fortifications protecting the Minneapolis courthouse. 
---
By Carolyn Yeager
I wrote on this site on last Dec. 31 that the year 2021 would be a time of "great awakening." I felt a strong impulse to predict that even though I had no way of being sure of it. I can now say I am sure based on the first three months of this year 2021. What extraordinary events already! And much more to come—a year jam-packed with unfolding news at a speed that will challenge the best of us to keep up.
A major meaningful event is and will be the George Floyd murder trial against Minneapolis police officer Derek Chauvin. Chauvin is no longer a police officer, having been fired in conjunction with being charged with 2nd degree murder in the course of his arrest of George Floyd on May 25, 2020. [An alternative charge of 3rd degree murder, sought by the prosecution, has now been added.]  Continue reading at Carolyn Yeager