Busted: Joshua Kaufman's claimed Auschwitz number belongs to someone else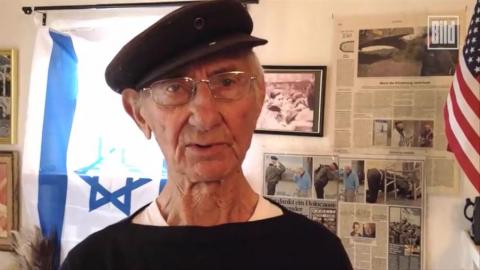 Zionist Joshua Kaufman in his home in the Los Angeles area of southern California, surrounded by two national flags and the news stories that gave him recognition pinned to the wall behind.
---
BY CAROLYN YEAGER
Like Joseph Hirt, who is a complete fraud, Joshua Kaufman has now been proven to be at least half a fraud. The number he claimed to be his when he told NBC News, "I am not Joshua Kaufman, I am number 109023" belongs to Mateusz Judasz, born September 12, 1901 in Łaznów, Poland.
A search in the Auschwitz-Birkenau State Museum online records revealed that Judasz arrived at Auschwitz on March 18, 1943 (over a year before Kaufman allegedly did) and was assigned the number 109023. His profession is listed as "farmer." He was transferred to Mauthausen (in the Ostmark) in that same year and was eventually liberated from Mauthausen. Continue reading at Elie Wiesel Cons The World